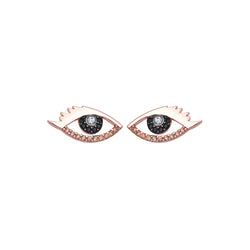 I SEE YOU STUDS ROSE GOLD AND CHAMPAGNE
18ct Rose Gold Plated Studs
925 Sterling Silver  
Zircon & Natural Stones
Stone Colour: Champagne 
These exotic precious studs are not only a delicate and vivacious ornament but also a powerful charm. 
The Evil Eye in tradition is considered as one of the most ancient symbols of protection. Its meaning recalls the eye of God that watches over you when you wear it, functioning as a shield against envy and jealousy.
These are also a perfect symbolic gift for those loved ones you want protected from envy.